The Upromise website claims that they're a "simple, yet powerful idea," where you can turn, "everyday spending into money for college." Discover how this simple concept is helping millions make money for college.
What is Upromise
The idea behind Upromise is this: by shopping at a Upromise partner (there's THOUSANDS of them…from big name retailers all the way down to local businesses) a portion of the money you spend goes back to you to help pay for college. Your spending is broken down into 4 main categories.

Shop and earn with Upromise: There are over 600 online stores in the Upromise network. Stores like Gap.com, BestBuy.com, Apple, HomeDepot.com and more are waiting to give you money for college by simply shopping at their stores – something you probably already do. (I can see the conversations now, "Dad, you don't get it, buying that iMac will actually save money for college…I'm helping YOU out.")

Eat and earn with Upromise: Who wouldn't love to EAT and make money for school. There are over 8,000 restaurants that have teamed up with Upromise to give you money for college by simply eating at their restaurants. You can search the Upromise website to find all the restaurants in or around your home town or college campus, then all you have to do is show up with an empty stomach.

Spend and earn with Upromise: Who likes paying their cell phone bill? What if you earned money for college in the process? Let's face it, there are certain expenses we ALL will have (college students especially). With the extended Upromise network, everything from your cell phone to buying a home can put money in YOUR pockets (or your child's pockets) for school.

Shop at grocers/drug stores and earn with Upromise: Thousands of grocery and drug store items come with a cash back % that goes directly to your Upromise account. If you're going to spend the money anyway, why not actually get something in return. The Upromise website lists all eligible items so you can see exactly what you'll get back before you spend.
How Upromise Works
By shopping online through the Upromise network, you can get from 1-25% back from eligible purchases at stores like Apple, HomeDepot.com, Target.com, etc. 
By eating at the participating restaurants, you can get up to 8% back. 
Get 1-3% back on thousands of items at grocery and drug stores.
You can even save over 2 times more when your family and friends help.
To give you a visual example of how much you could earn with one day's spending, take a look at the following scenario…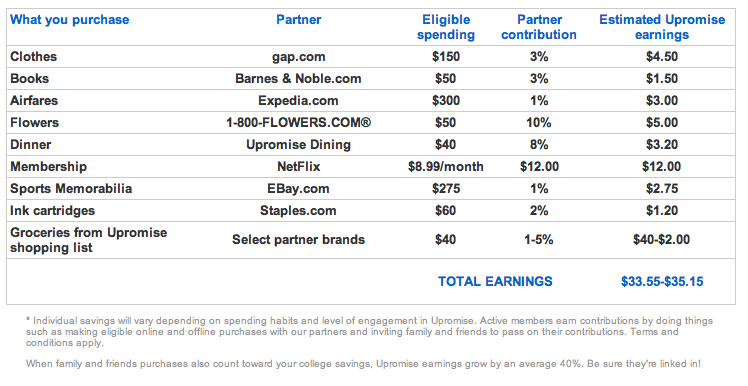 How Do I Get The Earnings?
All your earnings are automatically saved securely into your Upromise account. Then, you decide if you'd like the potential to grow them tax-free in a 529 plan to pay for college, use them to pay down a Sallie Mae student loan, or receive a check for college expenses.
Very rarely does something come along that is so easy to integrate into your daily life (you or your family is probably already shopping at these stores) while at the same time putting REAL money in your pockets to help pay for college.
How Do I Get Started?
Registration is free, and all you have to do is register your credit/debit card or grocery/drug store card with your Upromise account, then every time you use that card a percentage of the sale will be added to your Upromise account automatically. Over 10 Million students, parents of students, and friends and family of students are currently using Upromise to help put a dent in the mounting cost of college. This is a great way to help make a real difference in the quest to find money for school, and you can get started today!