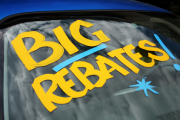 Processing Rebates – have you heard of it? It's the latest trend in "opportunity" based websites that try to sell the idea or processing rebates as a real way to make money online. Before we explain what rebate processing is (or isn't) you'll be intrigued to know the back story of these two websites: ProcessAffiliateRebates.com & ProcessAtHome.com
Process Affiliate Rebates (ProcessAffiliateRebates.com) is the reincarnation of a site that many feel is one of the biggest scams of all-time: Process At Home (ProcessAtHome.com).
Over a year ago, ProcessAtHome.com hit the web and instantly gained a lot of buzz. It was the brain child of a certain Angel Stevens (the "name" of the person who owned the site) and she was the self described "top home business consultant in America."
Supposedly, Miss Stevens (who also went by the alias of Anglea Penbrook on other copy cat websites of the same product) had spent over 25 years being a "home business consultant" and had helped countless thousands of people earn a lot of money from home based businesses. She went on to explain that there was an emerging avenue for people from across the world to make money by simply processing rebates online.
The opportunity was presented in a way that the potential customer (you) would think that by forking over $197 – the cost of their "training" – you would be given the material and instructions on how to start your own rebate processing position right away. In reality, processing rebates is the latest twist on data entry opportunities which is the latest twist on old-fashioned affiliate marketing.
Products like Process At Home & Process Affiliate Rebates are promoted through what are known as affiliate networks, and affiliate networks are simply a resource for affiliate marketers to find offers to promote that they in turn receive a commission for selling.
Process At Home cost the end user $197 to purchase, and the referring affiliate – the person who's link you clicked from any number of websites that took you to ProcessAtHome.com – would receive $70+ per sale.
Since affiliate marketers (the guys/gals who are promoting programs like Process Affiliate Rebates & Process At Home) are looking to make as much money as possible, they typically promote the products that have the highest payouts, and in the world of business opportunities, $70+ per sale is up there.
Many times, marketers can expect to earn anywhere from $15-$40 per sale for the typical business opportunity offer you purchase through their affiliate link. But when a $70+ offer comes along, many times THAT product will get the highest "rating" or "recommendation" on websites telling you they've done a review of the top work at home products on the web simply because it has the highest payout.
Shameful, I know, but regretfully it's why most of the products you see "reviewed" on different websites are Number 1…they pay the most.
The End Of ProcessAtHome.com
In any event, ProcessAtHome.com had been online for over a year now, and since I'm in the affiliate marketing industry, I've known about this site for quite sometime. While doing some research tonight, I stumbled across a site (SiteReviewAuthority.org – more on them in a minute) that has been promoting Process At Home for a long time. I saw they still had it as their Number 1 choice for work at home programs, so I clicked the link and was taken to the ProcessAtHome.com website where this was posted on their homepage:
An Open Letter to Our Clients and Prospective Clients:

ProcessAtHome was created with one goal in mind – to empower people to take charge of their lives, and to take advantage of the latest trends in marketing and advertising. No-one doubts that the world of advertising has changed – "affiliate" marketing is the new buzz, the new way of getting your product properly positioned in the marketplace.

ProcessAtHome.com was a pioneer in this industry, and has been helping its customers achieve success as affiliate marketers.

And yes, because our message was a good one, because our materials and training enabled people to succeed, our system was a success! We helped thousands of people learn the in's and out's of affiliate marketing – how to make money from home – how to take steps toward achieving financial independence.

In fact, our efforts were so effective – we attracted the attention of unscrupulous people who sought to take advantage of our success by creating "copy cat" websites. The problem is – ProcessAtHome is MORE than just a website – it's training, it's support, it's a comprehensive understanding of affiliate marketing. But these unscrupulous other companies simply created websites that had the look and feel of ProcessAtHome, but none of its world-class products or services – and in the process, defrauded hundreds, if not thousands of people.

ProcessAtHome has been fighting this battle for a long time now – in an attempt to keep the copy cat sites from ruining our brand. We've hired attorneys, sent Cease and Desist letters, and we've spent countless hours trying to track down sources of consumer confusion.

We've come to the conclusion, however, that we simply can not win. There are too many copy cat sites out there, and we lack the resources to keep working against them. In addition, because of the fraud committed by these other sites, ProcessAtHome has lost its ability to successfully market itself.

Accordingly, ProcessAtHome will no longer be accepting new members. We will, of course, continue servicing our current members for the complete duration of their membership.

Sincerely,

The Process At Home Team
Hmmm…………
In their attempt to keep these "copy cat" websites from "ruining their brand" they simply decide to shut down their site? Admitedly, it's not very likely, but let's just assume for a moment it's the truth.
So ProcessAtHome is a victim of scammers ruining their name, and they decide to call it a day and move on. O.K. No big deal.
Enter Process Affiliate Rebates (ProcessAffiliateRebates.com)
Almost at the same time Process At Home "shut down" a new site: Process Affiliate Rebates (ProcessAffiliateRebates.com) came to life.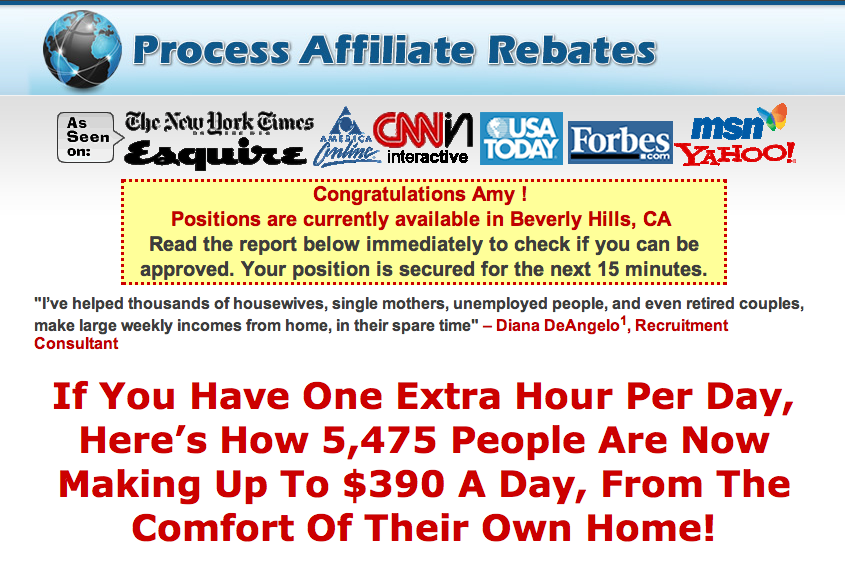 With a virtually identical sales letter, only with a different "home business consultant," now her name is Diana DeAngelo, there is no doubt that ProcessAffiliateRebates.com is owned, operated, and run by the very same people behind ProcessAtHome.com.
Still touting the riches to be made in "processing rebates," Process Affiliate Rebates tries to make at least one small tweak to make it sound more legitimate by adding the word "affiliate" between process and rebates.
At least affiliate is in their somewhere, because there is no doubt that the program they are selling as rebate processing is none other than affiliate marketing. Another minor difference is the prcing. ProcessAtHome cost $197 and ProcessAffiliateRebates is a steal (pun intended) at $157.
What Is Rebate Processing?
The rebate processing opportunity goes like this. For a fee, these companies pledge to train you how to become a rebate processor. Your job, they say, will be to process rebates all day. They TELL you that processing rebates involves you logging into an account, entering someone's name, the amount of the refund, and then hitting send.
It sounds nice and easy, but as we all know, something that sounds too good to be true almost always is. The TRUTH about processing rebates at home is that you must first sell something. Once you make a sale, you take part of the earned commission and offer it BACK to that person as a form of a "rebate" for buying the product from you.
It's ludicrous, I know. The thought that you can train someone to become a "certified rebate processor" like it's some sort of job is completely misleading. The truth is that processing rebates in the form they present to you the visitor – DOES NOT EXIST! Try to show me one person who can prove they are using the rebate processing opportunity to make any real, consistent money online. You won't find it.
If you ever see anything with the words "process" or "rebate" anywhere in the opportunity description, run like the wind, because it is certainly NOT what it seems.
Proof
There's actually quite a bit more to this story, and if you've got the time it makes for an interesting read. In researching these two websites, we found a tangled mess of impersonations and misleading information all centered around these rebate processing scams. Here's what we found:
The Same Terms Of Service – Both ProcessAtHome and ProcessAffiliateRebates have identical terms of service…word for word. They both say they are based out of Nicosia, Cyprus, an island country in the eastern Mediterranean. Their terms basically state that all complaints will be governed by the rules and regulations of Cyprus. Translation: their not based in the United Stats so stateside laws do not apply. Obviously, this is a BIG red flag.
SiteReviewAuthority.org Is Also Run By Them – This website has long been singing the praises of ProcessAtHome.com (it's been their Number 1 pick for quite a while), however when using the Way Back Machine I noticed that ProcessAtHome.com used to have the exact same layout, font size, color, and unusually similar wording as SiteReviewAuthority.org. Here's a picture of what ProcessAtHome.com used to look like followed by a screencapture of SiteReviewAuthority.org
Old ProcessAtHome.com Home Page
SiteReviewAuthority.org Home Page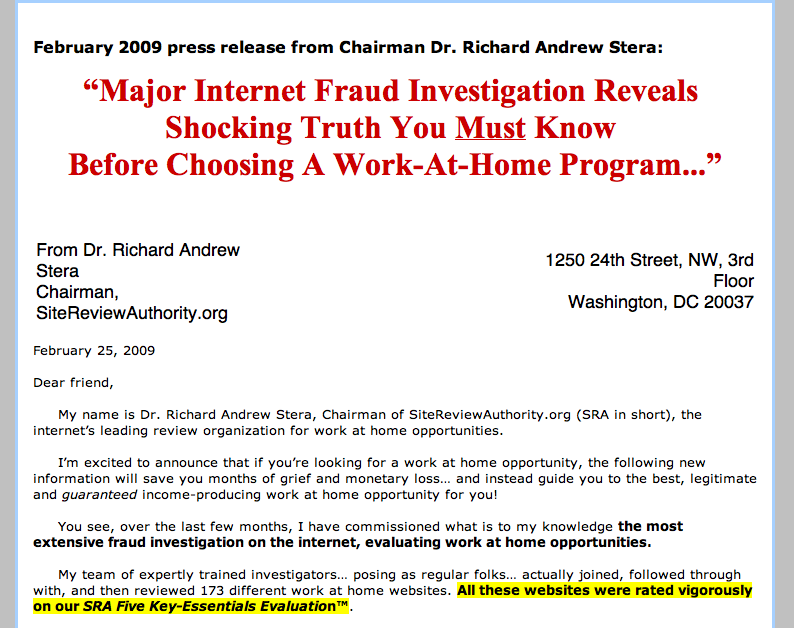 Every bit of me believes these are owned/operated by the same people. Furthermore, that address that Dr. Richard Andrew Stera lists: 1250 24th Street, NW, 3rd Floor Washington, DC 20037 is this building below: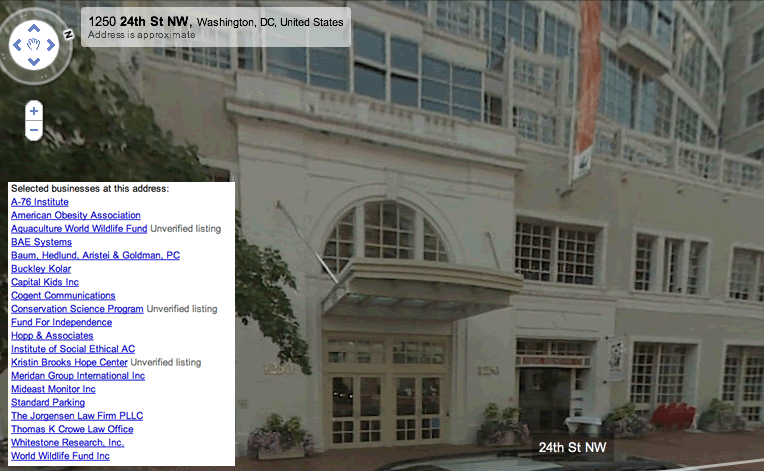 As you can tell by the businesses at that address, not one of them resembles anything related to SiteReviewAuthority.org (in full disclosure, it is not a complete list of businesses, but let's just say the chances of this actually being a real address are slim to none). Update: SiteReviewAuthority.org now recommends ProcessAffiliateRebates.com as their number 1 choice. Yesterday it was still ProcessAtHome.com. Do we need any more proof that they are all the same individual/company?
The moral of the story? Don't join ANY rebate processing website. This includes ProcessAffiliateRebates.com and other popular ones like RebateProcessorJobs.com or ProcessRebatesForCash.com.
Save yourself the time, money, and frustration. There are plenty of other free opportunities out there to make a little extra money, and here's our favorite: paid surveys with Survey Spot. Their membership is 100% free (with no hidden costs), and in our opinion they are one of the best paid survey sites out there. If you're 18 or older and live in the U.S. you need to at least register to become a member and check out their service. It's second to none, they've been around since 1977, they come with our full recommendation, and last but not least…you can't beat free.
Join Survey Spot Here.  For more information on surveys, including our complete list of recommended free survey companies, read our detailed paid surveys review (this opportunity works best when you register with 6-8 different survey companies, and we explain why in our review).
June 13, 2009 Update: The guys over at I've Tried That posted a link to a video 20/20 did regarding the very people behind Process At Home (and now Process Affiliate Rebates). It's fascinating to watch, and you can check it out here.

It's possible that you've stumbled across this page and are not a student, however you were simply looking for a review about Process At Home (ProcessAtHome.com) or Process Affiliate Rebates (ProcessAffiliateRebates.com). If so, we hope this information has helped you. If you have any questions or comments regarding these or any other rebate processing programs, feel free to use our comment box below.