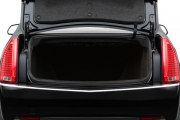 Have you noticed a lot of clothes in your closet that never get worn? Maybe even have their tags still attached? How about video games you never play anymore? With the help of self-sell sites like eBay or Craigslist, you can turn those idle items into cash to put towards your education.  All it takes is a camera, some basic writing skill, and good timing.
Sell In Season
The ideal time to sell your stuff is when it's in season, or better yet, over the winter holidays (when everyone is buying buying buying for Christmas).  For example, if you have a bunch of summery clothes that you want to get rid of  (tank tops, shorts, t-shirts, etc.) don't sell them when it's zero degrees out!  Wait until the spring or summer months when people will be on the look out for a good deal on a new (well, new for them) warm-weather wardrobe.
Describe It Well
As far as the description does, make sure you give enough detail on what you will include in your posting: if it's clothing, describe brand, size, color, condition, and make sure to specify any defects (such as stains or snags) so it does not come as a surprise to the buyer when they receive the item.  Also, don't sell anything that's in such bad condition that it is unusable: if you wouldn't wear it, chances are that neither will anyone else who's combing the market.
If it isn't clothing you are trying to sell and you want to get rid of your pre-owned electronics or games/DVD's, then it is very important that you test them out yourself prior to selling to ensure that they work.
If you end up selling an item that is defective or doesn't work, then your efforts and reputation as a reliable seller will be marred, inhibiting your efforts to sell your stuff and make some money. Thus it is in your best interest (as well as that of your buyer) if you take the extra time to test your product beforehand, which will allow the transaction to go smoothly and successfully.
The happier the customer, the better your reputation as a seller, and the better your reputation, the more money you can get through doing business with other buyers.
Besides providing accurate and thorough descriptions of your items, a good picture of what you're selling also helps up the price people are willing to pay. Don't go and Photoshop the image, but a good 2-4 pictures from different angles and sides will give potential buyers a good idea of the condition and quality of the item, making them more comfortable with what they'd be getting and thus more likely to buy.
All In All…
If you have things you don't want or don't use, turn them into things you want to sell.  Keep in mind, presentation is key to making a successful sale and keeping the price at a reasonable level: if you don't portray your item in a positive light, or accurately describe it in the posting, then the likelihood of a smooth transaction and successful sale is not as great. Thus, when selling, be thorough, be precise, and be honest in your description, and most importantly be responsive to any potential buyers who have questions. Take these steps seriously and you can be on your way to  a fuller wallet and less cluttered closet.