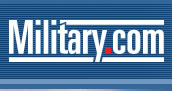 Military.com may literally become your one-stop access to all the military information you need. Whether you're a recruit, veteran, military activist, serviceman, interested in joining the military, married to someone in the service (or in anyway related to someone who is serving or has served), Military.com most likely has whatever information you're looking for.
There's a "locator" for finding friends from the military, a job finder based on location, even an online shop for finding military related gear (from "coveroos" to night vision goggles). Military.com also has many articles with advice about travel, careers, finances (like with houses, cars, and other loans), and many other benefits of being in the military.
Get access to an entire community of like-minded people and learn if a career in the military is right for you (as well as finding information on how the military can help pay for part or even all of your college expenses).
Scholarships for Service
You may recall on our free scholarships page the mention of how you could possibly earn scholarships through working with the military. Military.com expounds on such possibilities with a helpful Tuition Assistance Program Overview, which explains the amount of financial aid you're eligible for depending on the military sector you decide to enter into.
Their Education section also provides a lot of information regarding programs and featured schools. You can browse by your status (Active Duty, Guard, Reserve, Veteran, Spouse & Family, etc.) or use their School Finder to locate "Military-friendly" institutions with the programs that would interest you.
If you've already decided you want to take advantage of the available military benefits – or if you're even the slightest bit interested in understanding what type of commitment you'd be making, Military.com's "10 Steps to Joining the Military" will help you figure out if this path's the right one for you, as well as which sector may fit you best, and how to make the most of this opportunity to serve your country.
You can also get information geared towards your interests and needs simply by filling out a quick form and providing some personal information (name, address, the like).
So What's it Take?
If you have a vested interest in the military and want to find out more, simply fill out Military.com's simple form to get specific information about how you can be benefited by the new GI Bill. You'll get "connected with Military and Veteran Friendly schools that offer VA approved education programs."
The best part? It's all free, with no obligations attached (other than any you may have already laid down with prior commitment to military service), and takes very little of your precious time to do. Just click the link, and fill out the form – it's as easy as that.
Also, it is stated specifically in their user agreement that "The Military.com Web site has not been approved or endorsed by the United States Federal Government, Department of Defense, any military service branch, or any agency thereof. The products, services, and information offered by the Military.com Web site are not being made by an agency of the United States Federal Government."
Therefore, the information available on the site is not going to be government propaganda trying to "trick," "deceive," or "coerce" you into joining the military. Rather, it offers practical information for those interested – or even remotely curious – about military life, and the benefits thereof. It offers advice, like their "5 Ways to Impress Your Drill Sgt." article, general info, like their "5 Military Myths- BUSTED!" page, the latest news, and much more.
Check it out. Just go to Military.com and select the venue that interests you the most. And while you're at it, fill out their simple little form to get free, valuable, pertinent information about how the military could possibly benefit you. If you're a student considering a career in the military, or simply want more information on how the military can help with your college aspirations, be sure check out this valuable free resource from Military.com.